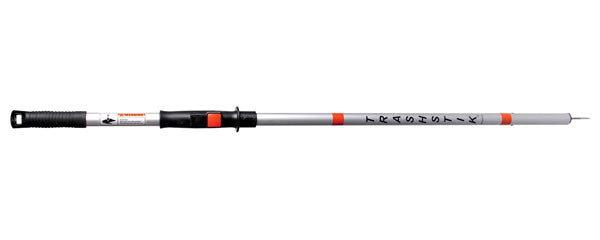 PikStik TrashStik 42" SKU T422
Never Touch Trash Again!
The TrashStik is uniquely designed for safety and janitorial productivity. No bending or stretching is necessary.
Unique retractable, protective sleeve collects and ejects debris with a one-button operation so hands and feet are kept free from trash and sharp tips.
Anodized aluminum shaft is durable and rustproof.
42" shaft length eliminates undue reaching and bending.
Secure protective sleeve locks in place to safely cover tips and store StikPins when not in use.
Ergonomically designed handle and nylon strap are convenient for handling and storage.
Heavy duty stainless steel double-point design makes collection of beverage cans, trash, cigarette butts and unsanitary items convenient and safe.
Can pick up items weighing up to 5 pounds.