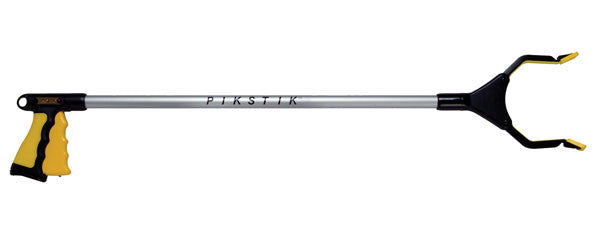 PikStik Pro 32" SKU P321
The PikStik pro is not just for pros any more.
This reacher preferred by professionals is available to everyone. PikStik Pro is a multi-purpose reacher designed for all uses. Our patented design is strong, lightweight, safe and available in multiple sizes.
Four sizes available: 20" (P201), 26" (P261), 32" (P321), and 48" (P481).
Made of durable thermoplastic resin, the textured tips provide non-slip gripping for all surfaces.
Patented jaws rotate 360 degrees to pick up objects from any angle.
Wide 5 ½" jaws pick up larger objects better than any other reacher.
Designed for ultimate safety with no sharp edges to cause pinching.
Multi-flex dimple design on overmold provides no-slip gripping from any angle.
Pentagon jaws allow larger objects to be moved safely.
One-piece molded jaw housing will never separate.
Unparalleled dual vault channel design provides extreme shaft strength.
Patented trigger multiplies gripping strength.
Can pick up items weighing up to 5 pounds.